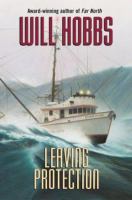 Title: Leaving Protection Author: Will Hobbs
ISBN: 0688174752 Pages: 173
Publisher: HarperCollins Publishers, New York, 2004


Readers Annotation:
Robbie is very excited to be on his first open sea fishing trip during the King Salmon season. He's hired by Tor, a grouchy old fisherman, who is also hunting for a priceless Russian treasure.


Author Information:
Will Hobbs is an award winning author of adventure books like Far North, Jason's Gold, Down the Yukon, Wild Man Island, and Jackie's Wild Seattle. Seven of his books have been chosen by ALA as Best Books for Young Adults. Leaving Protection was inspired by the personal experience Hobbs had as a troller deckhand during a very productive King Salmon season. He is also a nature enthusiast and a former teacher.
Will Hobbs is a graduate of Stanford University. He is considered one of the most notable adventure writers for young adults. He currently lives in Durango, Colorado, with his wife Jean.
Plot Summary:
Sixteen year old Robbie lives with his family on a houseboat in Port Protection, Alaska, a tiny community. He goes to a public school that has an enrollment of less than fifty children. Robbie is ready to leave his parents and sister to try his hand at fishing in the open sea, and making some of his own money.
Robbie flies to the nearby fishing town right before the King Salmon season begins. He tries to find a job as a deckhand, but this proves difficult due to hard economic times. Finally, Robbie meets Tor Torsen, usually a loner. But, Tor begrudgingly hires him after he catches Robbie looking at an old bronze plaque hidden away on the captains deck. Tor is a difficult person to deal with, and Robbie finds himself working harder than ever before. When Tor tells Robbie that the plaque is a priceless Russian treasure, and that they would be hunting for more, Robbie suspects that Tor's motivation for hiring him had a deeper and darker purpose.
Critical Evaluation:
Readers are taken on an exciting and thrilling adventure with the main character in this coming of age novel. The dangers of open sea fishing on the high seas are portrayed accurately, lending a sense of authenticity to the story. The author also discusses the topography of Alaska in accurate geographical terms, as well as Alaska's history in relation to Russia, adding another dimension of realism to the story line. Readers become immersed in the story through the use of boating jargon, and through the suspense of the hunt for treasure. Lastly, the depiction of this classic survival adventure through the protagonists point of view gives the reader a feel for his utter exhaustion on busy fishing days, as well as an understanding of his courage for going on this expedition in the first place.

Genre: Adventure Fiction


Curriculum Ties: History - Alaska, American Culture - Fishing


Booktalking Ideas:
1. At sixteen, Robbie leaves his home for the first time to find a job catching King Salmon on the high seas for a few weeks. When was the first time you left your home to be on your own?
2. Tor has Robbie assist him in finding old Russian/Alaskan treasure. How would you like to go on a real treasure hunting trip?


Reading Level/Interest Age: 13+


Challenge Issue: none


Why I chose this item: This book is for the adventure lover. I felt it was important to have an adventure seeking book with a strong male protagonist.